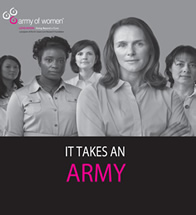 As we approach Breast Cancer Awareness Month, we know one thing for sure—your personal stories encourage people to move from awareness and into action!  That's why we're preparing to launch our new "It Takes an Army" Video Project.  It's an opportunity for you to share your story with others and to motivate them to join the Army of Women and get involved in breast cancer research.
Breast cancer is not a man or woman's disease—it's a family disease. So, we want to hear ALL of your stories. Your call to action is simple: Turn on your video camera and tell us two things:
First, tell us about the moment you knew breast cancer had changed your life.
Then, tell us about the moment you knew your life could change breast cancer.
In October, we'll begin showcasing the videos on our Army of Women blog and we also encourage you to use your videos as your personal tool to educate your friends and family about the importance of breast cancer research.
Share Your Story
Learn more and submit your story at:
http://www.armyofwomen.org/It_Takes_an_Army_Project
DEADLINE: If you would like to be included in our first set of featured videos, please submit your video to us by Friday, September 23. Videos will continue to be accepted and featured in the coming months.
Sample videos
It Takes an Army - Rose's Story

It Takes an Army - AnneMarie's Story

It Takes an Army - Diedra's Story
It Takes an Army - Helena's Story

Now it's your turn… share your story with us now at: